Editor-in-Chief: WAN Jianmin
Vice President of Chinese Academy of Agricultural Sciences (CAAS)
Academician of Chinese Academy of Engineering (CAE)
Prof. Wan Jianmin got his PhD in Genetics and Breeding at Kyoto University. His fundamental research is on rice functional genomics and molecular breeding, including mapping, discovery and cloning of agronomical important genes/QTLs involved rice grain quality, hybrid sterility, yield, rice blight and abiotic stress. Current research is also focusing on the establishment of high-efficient rice Agrobacteium-mediated transformation system. The research will provide some theoretical basis and new technologies for the development of rice genetic engineering and obtain new rice varieties by pyramiding the important genes.
Prof. Wan Jianmin has made significant contributions to understanding of molecular mechanisms regulating plant architecture, meiosis, photoperiodic flowering, nitrogen utilization and hybrid sterility. So far he has published over 150 papers in international journals, including the world-leading journals Nature, Nature Biotech., Nature Commun., Developmental Cell, Plant Cell, PNAS, and has patents issued for 28 inventions. In addition, by using molecular markers and the pyramiding technology he has developed various genetic materials and 10 other new rice varieties.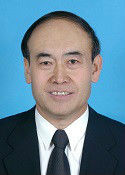 Former Editor-in-Chief: LIU Xu
Vice President, Chinese Academy of Agricultural Sciences (CAAS)
Academician of Chinese Academy of Engineering (CAE)
Prof. Liu Xu, Ph.D., was born in 1953 in Hebei Province. He is a senior scientist in the conservation and utilization of plant germplasm resources. Currently, he serves as Vice President and Professor of CAAS, Chairman of the Genetic Resources Branch of the Chinese Society of Agronomy, and Vice President of the China Wildlife Conservation Association. He was selected as Academician of the Chinese Academy of Engineering in December, 2009.
Prof. Liu Xu has long been working on crop germplasm resources. He has engaged in or presided over a series of research projects on the collection, conservation, evaluation and utilization of crop germplasm resources in China, which has formulated a profound foundation of germplasm dissemination and utilization as well as relevant technology, and improved China's research system on conservation and utilization of crop germplasm. He has also presided over research on the basic and principal diversity and technical indexes of China's crop germplasm resources, conducted comprehensive investigations on the origins of China's crop resources, established technical criterions for crop germplasm resources and perfected the related information system, which has significantly improved the efficiency and efficacy of germplasm utilization.